Emergency Roof Repair Mercer County NJ
Mercer County is a beautiful place to live, and its residents deserve the best when it comes to their homes. That's why Malanda Exteriors is proud to offer high quality emergency roof repair services. We understand that a damaged roof can be a serious problem, and we're committed to providing prompt, professional service. Our team of experienced technicians will work quickly to assess the damage and make the necessary repairs. And because we understand the importance of customer satisfaction, we'll always go the extra mile to ensure that you're happy with the results. If you're in need of emergency roof repair in Mercer County, NJ, there's only one name you need to know: Malanda Exteriors.
Emergency Roof Repair Mercer County
Commercial & Residential Emergency Roof Repair in Mercer County and the Surrounding Areas
In the event of a severe storm, your roof is one of the most vulnerable parts of your home or commercial building. High winds can cause shingles and other roofing materials to detach, and heavy rains can lead to leaks and flooding. If your roof is damaged, it's important to act quickly to minimize the damage. That's where our emergency roof repair services come in. We're available 24/7 to provide rapid repair services for any type of roof damage. We'll work quickly and efficiently to patch up holes, replace damaged shingles, and repair any other damage. And because we're local, we can get to you faster than out-of-state companies. So if you need emergency roof repair services, don't hesitate to give us a call. We're here to help.
The Top Roof Repair Specialists in Mercer County
Protect your home with the best in the roofing business
Here at Malanda Exteriors we have become the top roof repair specialist in Mercer County. With over 20 years of experience and knowledge when it comes to repairing roofs, we will make sure the job is done right the first time. We offer a variety of roof repair services, including fixing leaks, repairing damaged shingles, and replacing missing shingles. When it comes to choices, we also offer a wide range of roofing materials to choose from, so you can find the perfect match for your home. In addition, we make sure to offer a 100% satisfaction guarantee on all of our work, so you can be sure that you'll be happy with the results. If you need a roof repair specialist in Mercer County, call Malanda Exteriors.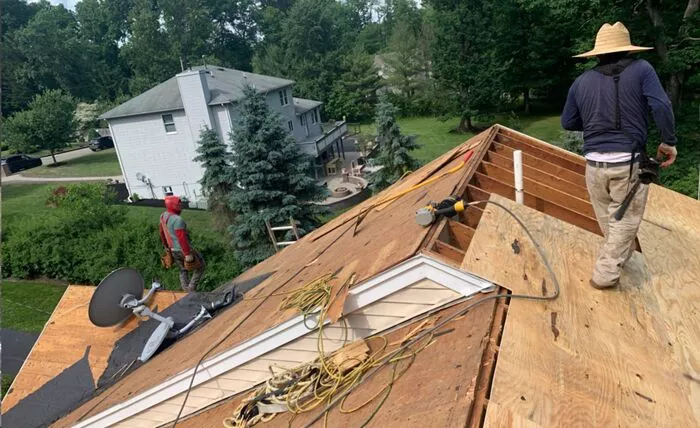 Quality Materials and Services
Our commercial roofs are not only long-lasting but they also come in different material options. EPDM and TPO offer excellent protection against water damage, making them perfect for businesses that have high exposure to rain or snowfall.
If you would like more information on how we can help your company select the best product for its needs please feel free contact us at any time!
The Different Types of Roof Repair
Minor
Roof Repairs
This type of repair is usually very easy and can be done by anyone with the right tools. However, if you are concerned about safety or prefer to get these taken care of professionally, give us a call.
Major
Roof Repairs
The cost of major repairs can be costly, especially when you factor in the expertise needed and specialized materials. It also includes any renovations or fixing safety hazards that are found during a house inspection.
Asphalt Shingles | Copper Metal Roofing | Shingle Repair | Roof Coating
Malanda Exteriors will be there to help repair the roof of your house in Mercer County. We offer repairs on everything from asphalt shingle roofs to roof coatings, so no matter what kind of material you chose for your home, our professional team can get it looking great again! If have any questions about our roof repair services in Mercer County, give us a call.
Need Your Roof Repaired or Replaced?
We offer high quality roof Repair services for Your Mercer County Home or Business
When you need roof repair in Mercer County, call Malanda Exteriors. We are the most reliable contractors for all types of residential and commercial jobs! You can trust us with your home or business because of our dedication to our customers, high quality workmanship, and professionalism. We offer free estimates on every job – no matter how big it may be. With over 20 years of experience under our belt on working with rooftops across the greater Philadelphia area, you know you are in great hands.